Estimated Time to Read: 2 minutes
Arranging a wedding ceremony can be a grand affair and you are likely to forget about details that can make or break the event. Wedding favors are such details that most of the people tend to forget. Wedding favors are a great way to show your gratitude towards those who gathered to grace the special occasion in your life. Giving wedding favors have been a tradition since long. You are likely to get confused by the huge list of wedding favors that are currently available in the market. So make it a point to be clear about your priorities so that you can shortlist the probable options from the endless list.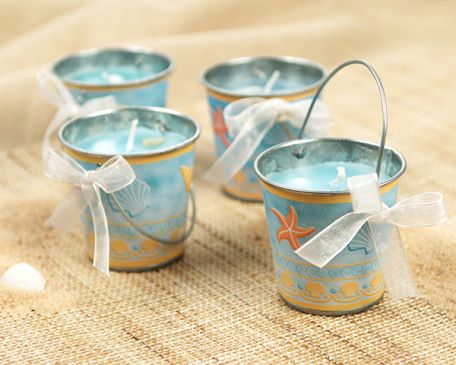 You need to take into consideration personality and preference of both of you while giving out wedding favors. Since it is a gift given out by both of you, both of your preferences must be taken into account.
The next thing that you both need to decide is, whether you will be making the wedding favors yourself, or you will order them online. If you are on a tight budget, you can go for simple favors and add your personal touch to make the guests feel special. Since the list of wedding invitees is generally very high, it isn't a practical idea to make all the favors yourself. So, below are some possible options that you can look for:
You can look for decorative candles and wrap them with some beautiful ribbons. The wedding motif and ribbon should have the same color. Scented candles can be another marvelous option on the eve of your wedding ceremony. The candle can be wrapped in tulle and tied with a photo of yours and your spouse.
Candies can be ideal souvenirs. You can fill mugs with mints and candies and gift to those who have graced the occasion.
You can never go wrong with your wedding photo. Place a photo of you and your spouse in a frame. It can also be a group photo, which will remind everyone of the special moments they had spent with you.
Bird or dove miniature ornaments make a great gifts option. Take into consideration the time of the year and if it is Christmas, for instance go with the Christmas ornaments.
Miniature wine goblets can be wrapped in tulle or pebbles can be placed inside them. Ribbons tied around them will make it a perfect wedding favor.
Bracelets, chocolate bars, potpourri, cookie jars, seashells, chopsticks can be some interesting ideas when you are falling short of ideas. You need not spend huge amounts on them and go for the cheaper variants. Your plan shall depend on your budget. So make sure to plan ahead of time.
Now when it comes to the wedding date of yours, arrange the favors on a table before the arrival of your guests. Place them on the entrance, so that they can pick them up while leaving. This will save you from the trouble of distributing it to each and every one.