Estimated Time to Read: 3 minutes
When the holidays are coming up, it's a time of preparation for many good things: large dinners, gatherings, and living-room conversations. The holidays are a time to eat, drink, and be merry, and there's no better drink for merrymaking than wine.
Wine is a universal staple for holiday gatherings. It can be the social lubricant that adds a dash of bubbliness to the festivities. As such, it's not much of a stretch to make wine gift sets the perfect gift for the holidays. In a pinch, a wine gift set is always a smart choice for anyone on your list, be they experienced wine drinkers or casual wine fans.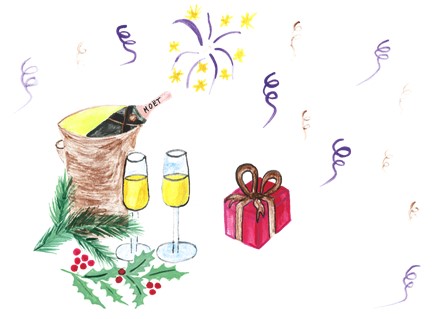 No two wine gift sets are alike, and there can be many ways to put together a wine gift set with a broad selection of wines and accessories to customize from. This can leave you feeling a bit confused and overwhelmed. Do you know what wines they like? What accessories go into a quality wine gift set?
If you're scratching your head wondering where to start, fear not: there are many great ideas for putting together a wine gift set for the holidays, and to help you get started, here are three of them.
Three Wine Gift Set Ideas for The Holidays
Idea #1: Wine Variety Bundle
If you have a large family and anticipate populous gatherings, then more can be better. A variety pack wine gift set is a great way of appeasing many tastes at once. Useful and considerate, a wine gift set consisting of two or three (or many more) distinct brands and flavors of wine is always going to be a hit. An option is to have a mixture of grape types – Cabernet, Sauvignon Blanc, Riesling, Merlot, etc. – to appease the broadest spectrum.
And variety pack wine gift sets aren't just for large gatherings of people with different palates. The wine lover on your list will adore a variety pack of their favorite red or white wines. Choose from a selection of brands from different areas of the world. Some of the more popular ones include South Africa, Australia, California, Germany, and Chile. Each one boasts its own climate and soil, adding a rich array of flavor profiles that are unique to each locale.
Idea #2: Wine Gift Basket
The tried-and-true traditional wine gift set of the ages is the wine gift basket. A wicker basket with accessories, goodies, and ornamentation not only makes for a great addition to your cabinet, but also for an appeasing presentation, making it appropriate as a raffle item in church draws as well as for an individual gift.
Wine gift baskets can be as varied a wine gift set as anything. Typically, wine gift baskets consist of wine (of course!) as well as a number of accoutrements, including accessories like corkscrews, wine glasses, and wine charms, linens (for the lining), or goodies like chocolates and selections of cheeses.
What sets wine gift baskets apart from other wine gift set counterparts is the elaborate presentation. The basket itself makes for a decorative touch that also makes it handy for portability, and to act as a container for all the things you want to add. The rest can be left to the imagination, but popular ideas include bows and ribbons and a final touch of clear plastic wrapping, bound with a decorative bow.
Idea #3: Wine and Food
Are you looking for something simple and intimate? If you're not keen on giving multiple bottles of wine and really don't want to spring for something elaborate, then a simple combination of wine and tasty goodies can make for a great wine gift set. While wines are known to be paired with many different foods, there are a few popular ones that most people swear by. The first is chocolate. If you have an intimate partner, then this makes an excellent choice. Chocolate and wine are a perennial favorite for partners of any stripe.
Another popular sidekick for wine gift sets is cheese. Cheese, like wine, comes in a staggering number of varieties from different cultures worldwide. This makes for a good opportunity to sample a new experience.
Professional Wine Gift Set
You don't have to resort to making your own wine gift set if you're so inclined. Customizable wine gift sets are available in a pinch from a number of online retailers. Choose from any number of styles, brands, and wines that will be sure to make a splash during the festive season, or on any special occasion.