Estimated Time to Read: 4 minutes
Another year has gone by and, once again, you find yourself looking for the perfect way to show her just how much she means to you.  An anniversary gift just isn't enough.  You need a gift that is perfect in every way—one that truly shows her how much you love her.  These types of gifts can be hard to come by, and not every gift you see will be perfect for your someone special; however, here are a few wedding anniversary gifts for wife ideas that can get you started.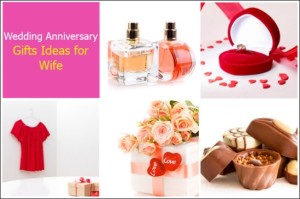 Ten wonderful wedding anniversary gifts for your wife
1)  A day at the spa
Nothing says "I love you" by taking her somewhere she can relax completely and rediscover her inner (and outer) luxuriousness.  To make this even more special, plan a couples retreat.  She'll love the extra time she gets to spend with you, you'll both love the extra romance, and, as a plus, you can both luxuriate with spa treatments and couples massages.
2)  Make it public
But not in the kinky way.  Make an announcement about your wedding anniversary in the newspaper alongside your wedding photo, or on the radio.  You can request her favorite song—or your wedding song—to be played along with it for the extra effect.
3)  Jewelry
Jewelry you know she'll love truly says it all, but it can also be a little cliché.  To make it truly stand out, try hiding it somewhere.  Lead her to it with love notes, or tuck it into a gift basket with chocolates and surround it with copies of all the little love notes you've ever sent her (or make up new ones).
4)  Her favorite book
Is she into novels, literature, poetry, graphic novels, or comic books?  Try finding her the perfect book for your wedding anniversary.  Find a classic love story, or hunt down a rare edition of one of her favorites.  To top it off, surprise her by running her a bath, complete with rose petals and candles, so she can have the most luxurious of moments with her book.  If she's into poetry, find a nearby poetry reading to take her to.  If you're feeling brave and creative, you could even arrange to read a poem to her at the reading.
5)  Bring out the cheese
Not actual cheese—although, topping any of these gifts off with wine and cheese probably isn't a bad idea—bring out the cheesiest of romantic cheese you can think of.  She'll love it.  Start by writing out the alphabet for her, and for each letter write down a word that has some connection to how you feel about her or things you've done with her (location of first date, name of first movie watched together, etc.).  To ramp up the cheese (err…romance), add pictures that connect to these moments.  Make it into a scrapbook, or put each one into an envelope and arrange them in a basket interspersed with love notes, chocolates, and flowers.  She's guaranteed to melt when she sees it.
6)  Her favorite anything
Show her you've been listening to her by hunting down any of the things she's told you she loves.  Did she tell you about a new restaurant she's into?  Take her there.  Does she love the donuts from that little shop down the street?  Buy her an assortment of her favorites.  Does she always glance at a certain necklace or bracelet in the local jewelry shop window when you go past?  Surprise her by getting it for her.  Anything you can do to surprise her with how much you've been paying attention to her is a very good start.
7)  Recreate your first date
Where did you take her on your first date?  Show her you remember that moment, and prove to her how much it meant to you, by recreating it.  This could be very fun depending on how long ago that first date was—and it might take a bit of planning to make it pan out just perfectly.
8)  Couples photos
Take her to all of the favorite places you go together—make a day of it—and make it even more special by arranging to have a photographer take couples photos of you in these spaces.
9)  Frame a quote that says it all
Does she have a favorite book or poem that has a romantic quote she adores?  Does she have a favorite romantic scene in a novel or comic book?  Find or make a print of it for her and get it framed.
10)  You
Of all the expensive and creative gifts you can find for her, the best wedding anniversary gift you can give her is you.  Spend some extra time making her feel as special as she is to you on your special day.