Estimated Time to Read: 4 minutes
If there is one thing we all love and hate, it is gift-giving. Although the process of giving somebody a gift on a special occasion can be very joyful, the thought and effort that goes into actually selecting one can be quite strenuous at times. We have all had that one person in our life who gives off no clues about what their likes and dislikes are, which makes it almost impossible to buy a gift for them. Ever find yourself in such a situation? Well, we are going to talk about a very unique gift that is suitable for a very specific demographic, and we will walk you through the process of figuring out whether or not this gift is suitable for an individual.
Here are a few questions I would like you to ask yourself. Does this person have expensive tastes? Do they have a fine collection of watches? If the answer to both these questions is yes, we may have the perfect suggestion for a gift: why not get this person a watch winder? Keep in mind, I did warn you that this gift would be suitable for a very specific demographic!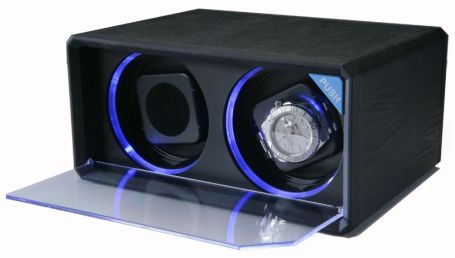 What is a watch winder?
You may or may not have heard of automatic watches before, but these are the kind of watches that benefit the most from using a watch winder. Most of the higher end watches such as Rolex, Omega, Patek Philippe, etc. run on the automatic mechanism. Basically, automatic watches have a rotor (which is usually visible at the back of the watch dial) which oscillates when the person wearing it moves around. This oscillation is what winds the watch, and keeps it working. People who alternate between more than one watch, or do not wear a certain watch all the time can find it quite annoying and time-consuming to have to wind a watch all the time before wearing it. If that is the case, a watch winder would come in handy. A watch winder keeps your watch rotating, which keeps winding them and therefore keeps them running all the time.
Is a watch winder suitable for all watches?
As mentioned above, a watch winder is only useful for automatic watches that require regular winding. Winding certain watches such as Rolexes can often be quite time consuming, and is a process that consists of the owner just sitting down and winding the watch manually for quite a while in order to get all the settings such as the date and time in sync. A watch winder would help a person avoid such a situation. That being said, these devices are not very useful if you own any other type of watch, whether it be a solar watch or normal quartz. So before you buy this product for yourself or for somebody else, make sure that automatic watches are a part of the person's watch collection.
Is a watch winder suitable for everybody?
The answer to this question is that it depends. Even though the process of winding a watch can be quite time consuming, there are a lot of people who enjoy doing this manually. It can be argued that there is a certain joy that can be obtained from manually winding all your watches now and then, and this is one of the main reasons why a watch winder may not be suitable for everyone. However, this is not always the case. There are people who would much rather have their watches wound and ready to go at all times. A watch winder would be a necessity for such individuals.
What kind of watch winders can you get?
Now that we have walked you through the factors that decide whether or not a watch winder is a suitable gift, let us talk about actually buying one. There are a lot of different types of watch winders that you can get. Depending on how much money you are looking to spend, you can get one that looks normal and winds a single watch (which will cost you as little as $40), or you can get one made out of carbon fiber that houses over 30 watches, and displays them like the priceless jewels they are (which could cost you upwards of $10,000). This is just an idea of the range of watch winders you can get so that you know what to look for. Remember, there is a wide range of watch winders that fall between these two extremes. No matter what kind of watch winder you get, you will surely be able to keep your watch(es) wound and ready at all times. You never know when you will need to strap on your best watch and look your best, so it never hurts to be prepared.

Related posts:
CCL il.biznet-us.com/firms/12087449/ forms.americantowns.com/viewgroup/1941471 askdeaf.com/listing/cassian-carter-llc-5e27fd065f3d2.html il.askyp.com/8157149903.html bizdays.com/Services/bizid-716384.html illinois.bizhwy.com/cassian-carter-llc-id17186.php www.biznesdirectory.com/site_detail.php?listing=32212 www.chamberofcommerce.com/united-states/illinois/joliet/medical-malpractice-attorneys/2011831671-cassian-carter-llc cassian-carter-llc.jolietdirect.info/ citysquares.com/b/cassian-carter-llc-21653660 www.communitywalk.com/map/index/2507017 www.illinois-webbusiness.com/company-cassian-and-carter-llc_2722459 lawyerdb.org/Mortgage/Gerard-Allison-Cassian—Carter-LLC–Illinois-19712342.htm www.lawlink.com/profile/38948 www.topduilawyers.net/company/2652/Cassian–Carter-LLC/...