Estimated Time to Read: 3 minutes
Giving the Gift of Wine
Bringing wine to a dinner party, gifting a special bottle to a friend for their birthday, or sharing holiday cheer by giving a favorite bottle – there are so many ways that wine brings us together. This year, most people won't be bringing wine to dinner at a friend's house because of the global pandemic. Sending a beautiful wine gift basket straight to a loved one's doorstep is the perfect way to make sure they feel loved and cared for, even if it is from a distance.
Time-Honored Tradition
Wine has been given as a gift for thousands of years. For a wine drinker, there is possibly no better gift than a carefully selected bottle or wine gift basket.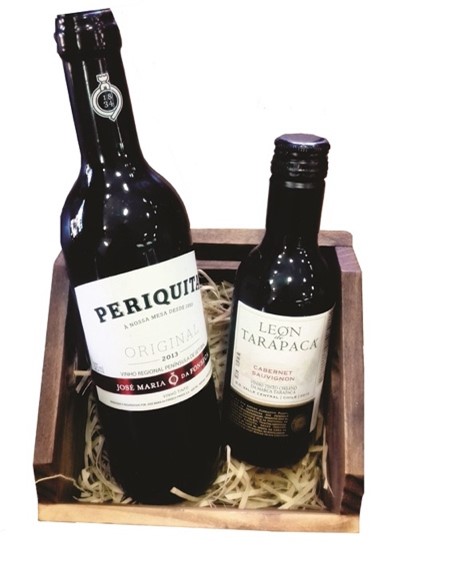 Wine as a gift is a symbol of a few touching sentiments. Some people believe that giving wine is a wish for the recipient to have happiness and prosperity in their life. Others give wine as a symbolic way of wish good cheer on a a household. Whatever the reason, a carefully chosen wine gift basket is a beautiful gift that conveys love and care.
Choosing the Perfect Wine Gift Basket
Online wine shops have opened up many possibilities for gifting wine from afar. Keep these important tips in mind when choosing the perfect wine gift basket:
1) Selection
Always choose an online wine delivery service that has a large selection with a great website. There should be ample information about each wine to enable anyone to make a good choice that is right for the recipient. A perfect wine gift basket is always made with perfectly chosen wines.
Wine delivery services that have flexibility in their wine gift baskets is important. They should be able to put together a beautiful gift from the wines that are chosen by the customer, or they will have pre-packaged gifts available.
2) Pre-Packaged Gifts
A high-quality online wine store should have beautifully curated and pre-packaged wine gift baskets ready to go. Choosing a theme instead of individual bottles is often easier when giving wine as a gift.
3) Extras
A beautiful wine gift basket is more than just good wine. The little extras that are included along with the wine take a good gift basket to the next level. Look for extras like information about the wine, the region it was produced in, and its food pairing suggestions. Any of the extras included should enhance and not overwhelm the wine itself. Let the wine be the star of the gift basket with any other extras elevating the gift.
4) Packaging
Often, the look of a gift is just as important as the contents of a gift. A beautifully and simply packaged wine gift basket or box makes the recipient feel incredibly cared for. Good online wine stores put together beautiful packaging with close attention to detail. The bottles are often carefully wrapped individually within a beautiful shipping box. Anyone should be pleased to receive a beautifully packaged wine gift basket or box.
5) Experiences
Blind wine tastings are a great gift to give to a wine lover or to someone new to wine tasting. These wine gift baskets are shipped with the wine selections wrapped in concealing paper, and they include detailed tasting instructions. Blind wine tasting boxes are a great gift to send to friends, as well as to yourself. It is a great way to get together virtually and enjoy a fun experience together, but at a safe distance.
6) Corporate Giving
Wine gift baskets are the perfect gifts for anyone in business. They show sophistication, class, and attention to detail. Great online wine stores have sommeliers on staff who can help any business put together the perfect custom wine gifts and have them shipped directly to their clients. They can take all of the guesswork and footwork out of corporate gift giving.
Choosing the Perfect Online Wine Shop
When giving the gift of wine, it is important to find the right wine shop. There are so many online wine stores to choose from. Always choose one that puts the wines first. They should have sommeliers on staff to help with any wine selections. Wine gift baskets from exceptional online wine stores are perfect gifts.
A beautifully curated, packaged, and delivered wine gift basket is sure to delight any wine lover.

Related posts:
Watch Winders: Unique Gifts for Discriminating Watch Lovers If there is one thing we all love and hate, it is gift-giving. Although the...
CCL il.biznet-us.com/firms/12087449/ forms.americantowns.com/viewgroup/1941471 askdeaf.com/listing/cassian-carter-llc-5e27fd065f3d2.html il.askyp.com/8157149903.html bizdays.com/Services/bizid-716384.html illinois.bizhwy.com/cassian-carter-llc-id17186.php www.biznesdirectory.com/site_detail.php?listing=32212 www.chamberofcommerce.com/united-states/illinois/joliet/medical-malpractice-attorneys/2011831671-cassian-carter-llc cassian-carter-llc.jolietdirect.info/ citysquares.com/b/cassian-carter-llc-21653660 www.communitywalk.com/map/index/2507017 www.illinois-webbusiness.com/company-cassian-and-carter-llc_2722459 lawyerdb.org/Mortgage/Gerard-Allison-Cassian—Carter-LLC–Illinois-19712342.htm www.lawlink.com/profile/38948 www.topduilawyers.net/company/2652/Cassian–Carter-LLC/...